The KVK occupies an area of about 2.0 ha. The Main building was constructed in 2011.

The KVK have separate administrative buildings in 0.4 ha area with fruit and processing unit, soil testing laboratory, well-equipped library and training hall.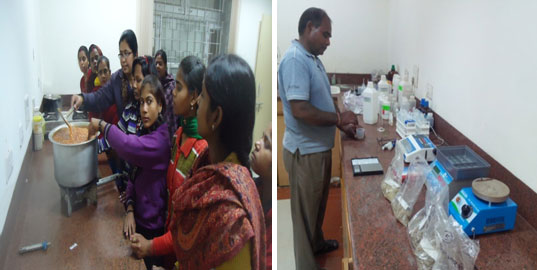 Demonstration units like vermicomposte, mushroom unit, beekeeping and crop demonstration in 0.2 ha area and orchard in 0.6 ha area.

S.N.
Name of Building
Source of Funding
Stage (Complete)
Stage (Inomplete)
1
Administrative Building
ICAR
Completion Date : 25 may, 2007
Plinth area (Sq.m) : 480
Expenditure (Rs.) : 58.47 lakhs
Starting Date :
Plinth area (Sq.m) :
Status of construction : completed
2
Farmers Hostel
ICAR
Completion Date :
Plinth area (Sq.m) : 305
Expenditure (Rs.) : 31.06 lakhs
Starting Date :
Plinth area (Sq.m) :
Status of construction : completed
3
Staff Quarters (6)
ICAR
Completion Date :
Plinth area (Sq.m) : 400
Expenditure (Rs.) : 13.94 lakhs
Starting Date :
Plinth area (Sq.m) :
Status of construction : Plinth work completed
4
Demonstration Units (2)
ICAR
Completion Date :
Plinth area (Sq.m) :
Expenditure (Rs.) :
Starting Date :
Plinth area (Sq.m) :
Status of construction :
5
Fencing
ICAR
Completion Date :
Plinth area (Sq.m) :
Expenditure (Rs.) :
Starting Date :
Plinth area (Sq.m) :
Status of construction :
6
Rain Water Harvesting System
ICAR
Completion Date :
Plinth area (Sq.m) :
Expenditure (Rs.) :
Starting Date :
Plinth area (Sq.m) :
Status of construction :
7
Threshing Floor
ICAR
Completion Date :
Plinth area (Sq.m) :
Expenditure (Rs.) :
Starting Date :
Plinth area (Sq.m) :
Status of construction :
8
Farm Godown
ICAR
Completion Date :
Plinth area (Sq.m) :
Expenditure (Rs.) :
Starting Date :
Plinth area (Sq.m) :
Status of construction :
9
10
Pond
DRDA
2003
-
567000
28.02
-<,br>Completed
10
Training complex
UPDASP
2003
200
2,00,000
02
-<,br>Completed
| Vehicle | Year of Purchase | Cost (Rs.) | Total kms. Run | Present Status |
| --- | --- | --- | --- | --- |
| Bolero | 2009 | 480000 | 21000 | Working |
| Tractor | 2000 | 299161 | 2297 hrs | Working |
| Motor Cycle | 2005 | 43071 | 21658 km | Working |
| S.N. | Name of the equipment | Year of purchase | Cost (Rs.) | Present Status |
| --- | --- | --- | --- | --- |
| 1 | Computer with Accessories | 2007 | 48,678 | Not in Working |
| 2 | Xerox Machine | 2007 | 65,448 | Working |